Supporters
The Greater Good Science Center is deeply grateful to its generous donors, who have helped the GGSC grow and thrive over the past two decades. You can learn more about the organizations and individuals who have supported us below.
If you'd like to join these donors in support of our work, please consider donating to the GGSC.
Founding Donors
Thomas and Ruth Ann Hornaday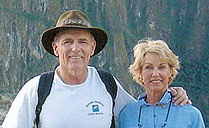 The Greater Good Science Center was founded in partnership with Thomas and Ruth Ann Hornaday, who attended UC Berkeley in the early 1960s. Read Our Story for more about their role in the center's founding. They serve on our Advisory Board.

Major Contributors
The GGSC receives grants from the following philanthropic foundations:
Acton Family Giving
American Nurses Foundation
Arthur Vining Davis Foundations
Bill & Melinda Gates Foundation
Einhorn Collaborative
John Templeton Foundation
Kern Family Foundation
KIND Foundation
New Pluralists Funder Collaborative
Room to Breathe Project
Skoll Foundation
The GGSC is also deeply grateful to the following individual major donors:

Anonymous
Elena Aguilar
Thomas Bagwell
April Bell
Barbara & Elliot Gewirtz
Yan Huo
Karen & Jeffrey Jordan
Carol Loughlin Trust
Alexandria Marcus
Laura Moore
Birju Pandya
Juliana Park
Becky & Doug Pruitt
Martha Rock
Stacy Schusterman
Mackenzie Scott
Allan Spivack
Janne Wang
Leslie Westphal
Emerald Yeh
If you'd like to join these donors in support of the Greater Good Science Center, please click here.