Our Mission
The Greater Good Science Center studies the psychology, sociology, and neuroscience of well-being and teaches skills that foster a thriving, resilient, and compassionate society.
Based at the University of California, Berkeley, one of the world's leading institutions of research and higher education, the GGSC is unique in its commitment to both science and practice: Not only do we sponsor groundbreaking scientific research into social and emotional well-being, we help people apply this research to their personal and professional lives.
Since 2001, we have been at the fore of a new scientific movement to explore the roots of happy and compassionate individuals, strong social bonds, and altruistic behavior—the science of a meaningful life. And we have been without peer in our efforts to translate and disseminate this science to the public, including through our award-winning online magazine, Greater Good.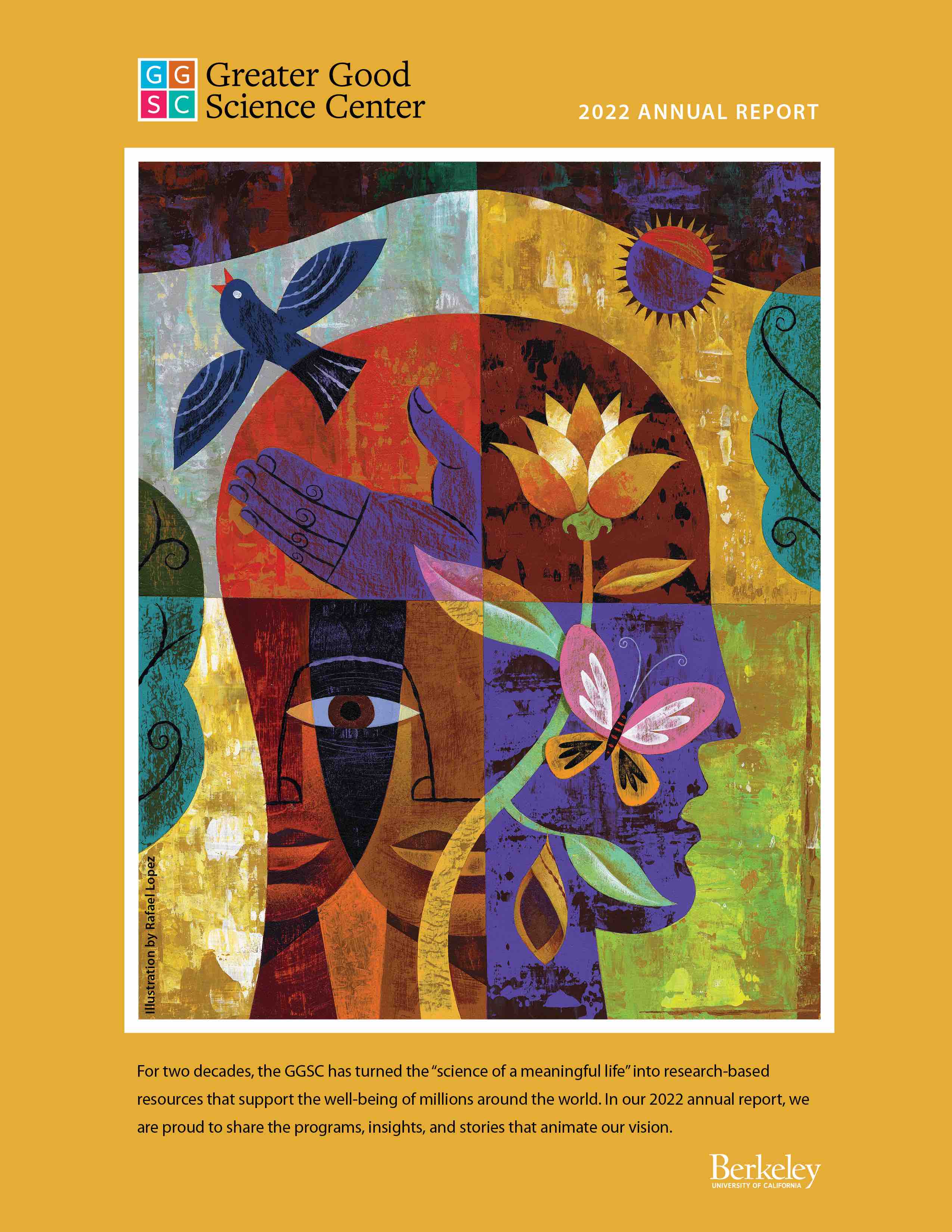 All of our programs are supported by donors large and small—and we hope you'll consider joining them by becoming a GGSC member. You can also sign up for our free newsletter to receive updates on our latest articles, events, and other programs, delivered right to your Inbox. Learn more about our work by downloading our Annual Report.
Though much of our work draws on psychological research, its scope is wider than the individual. Instead, we try to support cultural shifts in the ways people view human nature, understand the sources of true happiness, and value their connections to one another—all to promote a kinder and more compassionate society.
To achieve that overarching aim, we focus on these long-term, large-scale outcomes:
A shift in conventional wisdom about human nature, so that the public views kindness and compassion as no less "natural" to humans than selfishness and aggression;
Greater awareness about the keys to social and emotional well-being, including the factors most likely to cause people to act on their instincts for kindness and compassion;
Greater demand for programs that foster the social-emotional well-being of their participants, driven by greater awareness about the research-based benefits of these programs;
Deeper understanding within educational institutions of how—and why—to support social-emotional development, nurturing a new generation that is better equipped to deal with conflict, handle stress, and widen their circles of kindness and compassion;
Higher levels of emotional well-being within institutions—specifically in families, schools, workplaces, and the health care system—better preparing people to respond to others with care, equanimity, and generosity.
Our strategy to achieve these long-term outcomes has been based on the following beliefs, which are themselves grounded in the science that we cover.
Compassion is a fundamental human trait, with deep psychological and evolutionary roots. By creating environments that promote care and cooperation—and by elevating people's beliefs about what they're capable of—we help nurture the positive side of human nature.
Happiness is not simply dependent on a person's genes. It is a set of skills that can be taught, and, with practice, developed over time.
Happiness and altruism are intertwined--doing good is an essential ingredient to being happy, and happiness helps spur kindness and generosity.
Science should do more than help us understand human behavior and emotion in the abstract; it should be applied toward improving people's personal and professional lives. By drawing on research suggesting the importance of social-emotional skills, we seed demand for high-quality resources that build those skills.
Studying the roots of good, healthy, and positive behavior is just as important as studying human pathologies. To promote individual and social well-being, science must examine how people overcome difficult circumstances and how they develop positive emotions and relationships.
Individual well-being promotes social well-being, and social well-being promotes individual well-being. The well-being of society as a whole, then, can be supported by providing information, tools, and skills to those people directly responsible for shaping the well-being of others.
Privacy
At the Greater Good Science Center we take the privacy of our users very seriously. Read our privacy policy to learn more about how we treat personally identifiable information.