OpenIDEO Gratitude in the Workplace Challenge
Over the past two decades, hundreds of studies have documented the social, physical, and psychological benefits of gratitude. Many of these benefits have direct relevance and value to the modern workplace: Gratitude strengthens our relationships, improves our health, motivates us to achieve our goals, and boosts our feelings of satisfaction with life. More specifically, research has found that:
93% of people agree that grateful bosses are more likely to succeed.
88% of people say that expressing gratitude to colleagues makes them feel happier and more fulfilled.
In one study from Harvard University and Wharton, receiving a "thank you" from a supervisor boosted productivity by more than 50%!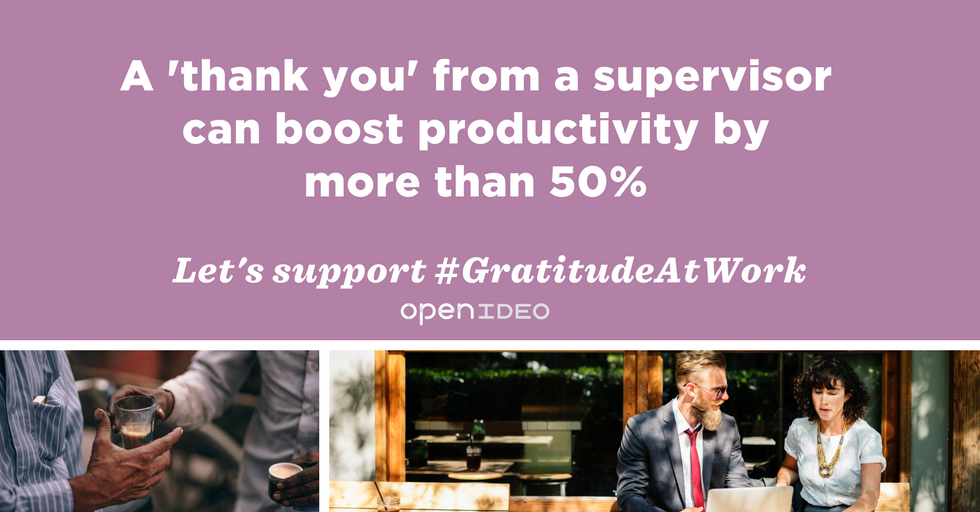 However, research has also found that people are less likely to feel or express gratitude at work than anyplace else: On a given day, only 10 percent of people say "thank you" to colleagues—and 60 percent of people report that they never or very rarely express gratitude at work. The result, we fear, is that too many people are feeling unappreciated and taken for granted at work, and organizations as a whole are missing opportunities to create healthier, more fulfilling workplaces. Sure enough, according to the U.S. Department of Labor, the number one reason why people leave their jobs is because they don't feel appreciated. And of course, given the amount of time we spend at work, our well-being at work helps dictate our well-being in life.
The Greater Gratitude Science Center partnered with the international design firm IDEO to launch a Gratitude in the Workplace Challenge in 2017 that aimed to close this "gratitude gap" between what people say they want in the workplace – to feel appreciated and express their own gratitude to colleagues – and what they actually do. It was designed to help identify some of the obstacles to feeling and expressing gratitude at work and to catalyze creative, practical ideas for overcoming these obstacles and inspiring more grateful workplaces. The challenge offered $40,000 in Implementation Grants to participants and organizations who propose or help to refine some of the Top Ideas that emerge from this Challenge and top ideas will be presented at the November 17, 2107 Gratitude and Well-Being at Work conference.