Venue:

Online

Date:

Self-paced session

Price:

Free to Audit; $169 for Verified Track

Since the Greater Good Science Center's FREE Science of Happiness online course first launched in September of 2014, more than 550,000 students have registered for it. Here is what some of them have to say:
"This is the most useful course I have ever taken. The materials that were offered in this course completely changed my perspective towards life."
"After I took this course, I became a different person. I learnt how to be mindful, accept myself. It really works."
"Excellent life-improvement lessons."
"The weekly practices in this course made it possible for me to actually integrate the course material into my life and experience the benefits on a daily basis."
"Thank you for one of the best learning experiences I have had in my 70 years."
This eight-week course explores the roots of a happy and meaningful life through science and practice. Students will engage with some of the most provocative and practical lessons from the latest research, discovering how cutting-edge research can be applied to their own lives. The course is divided into eight one-week segments, with an additional week in the middle for a midterm and an extra week at the end for a final exam, though students have six months to complete the material at their own pace if they wish.
Taught by the GGSC's Dacher Keltner and Emiliana Simon-Thomas, The Science of Happiness zeroes in on a fundamental finding from positive psychology: that happiness is inextricably linked to having strong social ties and contributing to something bigger than yourself—the greater good.
Students will learn about the most recent and relevant happiness research through compelling videos featuring Dacher and Emiliana as well as expert guest instructors; actionable happiness exercises; accessible reading material; and a weekly "emotion check-in."
And it works: previous participants have reported significant increases in happiness and life satisfaction, with a corresponding decrease in stress.
How to Sign Up
The Science of Happiness is hosted on the edX platform. To sign up, you need to create an edX account and then register for the course on edX. Once you do, you'll receive weekly emails every Tuesday as new content is posted.
Taking the Course as a Team
Why not take the class with a group? We now offer a facilitator's guide to help you organize in-person meetings to coincide with the run of the course.

The guide provides week-by-week instructions for how to present key topics; addresses the most common questions students have; and helps you try out suggested exercises, activities, and practices from the course in a group setting.
Verified Track
Please note this course can be taken for free; simply choose "Audit This Course" to register at no charge. You will have 10 weeks from date of registration to complete the course. After that time, course materials will no longer be available for you. In addition, Audit learners do not see sections of the course that allow learners to earn credit (e.g. Problem Sets or Exams).
You can instead choose to take the course via Verified Track for $169. The verified version includes additional content and graded assessments. You'll also receive a certificate of completion when you finish the course and you will have access to course materials long term.
If you plan to use your course for job applications, promotions, or school applications, you may prefer to have a verified certificate. It's also a great way to give yourself an incentive to complete the course and celebrate your success.
Podcast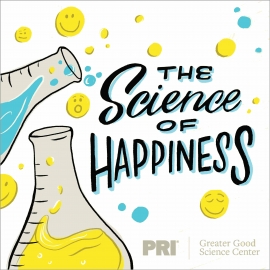 Looking for the Science of Happiness podcast? Our podcast is a great companion to the course, offering research-tested strategies for a happier life that you can put into practice today. Hosted by award-winning psychologist (and Science of Happiness course co-instructor) Dacher Keltner. Co-produced by PRX and UC Berkeley's Greater Good Science Center.