Bridging Differences
The Greater Good Science Center's Bridging Differences initiative mixes science and storytelling to help address one of the most urgent issues of our time: political and cultural polarization.
Public discourse in our nation is at a breaking point. Recent surveys suggest that the ideological divides among Americans are greater than ever. The resulting hostility and distrust undermines our emotional well-being, the quality of our relationships, and the integrity of our democratic institutions.
Fortunately, social science research from the past several decades has been identifying whether, how, and under what circumstances people from different groups can better understand and get along with one another.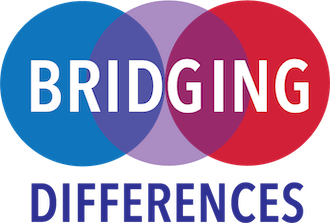 Inspired by both cutting-edge research and trailblazing practice, the Greater Good Science Center's Bridging Differences initiative is highlighting and disseminating the key research-based principles for fostering positive intergroup relationships. The project also calls attention to common themes, best practices, and case studies from leading programs that illuminate the research findings.
Through articles, videos (produced in partnership with NationSwell), podcast episodes, a Playbook, online course, and other resources, Bridging Differences is highlighting the skills and social conditions that are critical to reducing polarization and promoting more constructive dialogue. To ensure a multiplier effect to this work, the initiative aims to reach the "gatekeepers" on the front lines of efforts to bridge divides between various groups. This includes not only mediators and people leading organizations exclusively devoted to cross-group understanding but also K-12 educators, leaders in higher education, local politicians, workplace managers, and leaders of faith-based groups and other community-based organizations.
In May of 2020, we brought together top researchers, program leaders, and other experts and practitioners for a powerful one-day online event, offering evidence-based strategies for dialogue and understanding.
In October of 2021, we launched a massive open online course (MOOC) teaching key research-based strategies for bridging differences, with a particular focus on college and university campuses. Alongside that course, we are offering a Learning Fellowship for leaders in higher education who want to develop or strengthen an initiative on their campus that fosters constructive dialogue, relationships, and understanding across lines of differences. This learning community will enable them to learn from colleagues in their field at the same time that they're gaining research-based insights from the course.
We are grateful to the Einhorn Collaborative, Arthur Vining Davis Foundations, New Pluralists funder collaborative, and Allan Spivack for their generous support of our Bridging Differences initiative.
Do you work to help people or groups bridge their differences? Please share your story and let us know how we can help.
For more: