The Harvard psychologist discusses his new book on "why violence has declined."
Venue:

Berkeley Hillside Club

Date:

Thursday, October 27, 7:30pm (doors open 6:45)


This is not a Greater Good Science Center Event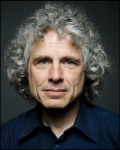 This event at Berkeley's Hillside Club, sponsored by Berkeley Arts & Letters, will feature Steven Pinker discussing his new book, The Better Angels of Our Nature: Why Violence Has Declined.
In his most important and provocative book to date, Steven Pinker broadens his ongoing inquiry into the nature of human nature to tackle a paradox of modern life: that contrary to what most people believe, violence has been in decline for millennia, and we may be living in the most peaceful era in human history. In THE BETTER ANGELS OF OUR NATURE, Pinker—psychologist, cognitive neuroscientist, linguist, intellectual polymath—pulls out all the stops in this dazzling sweep across centuries of human life.
We once lived in a world in which human sacrifice, sadistic torture, grisly mutilations, brutal slavery, political murder, debtors' prisons, and blood sports were commonplace. Today, these practices horrify us, have been abolished in much of the world, and are being pushed to the margins in the rest. Whether you are counting police-blotter murders or genocides, world war death tolls or the spanking of children and the treatment of animals, rates of violence have decreased over time. Using more than a hundred graphs and maps, Pinker shows that the conventional wisdom that we are living in an exceptionally violent era is an illusion, stoked by media coverage of the goriest events and fanned by an increasing awareness of violence.
Drawing from psychology, history, brain science, war studies, game theory, complexity theory, and popular culture, Pinker explores where violence comes from, why it has been so common over the course of history, and how we have been slowly bringing it under control. Along the way, he considers questions such as: What led people to stop stabbing each other at the dinner table, or burning cats and disemboweling prisoners as popular entertainment? Was it reading novels, cultivating table manners, fearing the police or turning their energies to commerce? Why is the United States the most violent democracy in the Western world today? Should the nuclear bomb get the Nobel Peace Prize for preventing World War III? Does rock 'n roll deserve the blame for the doubling of violence in the 1960s—and does abortion deserve credit for the reversal in the 1990s? Are there organs of violence and nonviolence in our brains, or genes for them in our DNA?
With the panache and intellectual zeal that have made his earlier books international bestsellers and literary classics, Pinker explains the most important development you have never heard of, and will forever change the way you think about modernity, progress, and human nature.
Steven Pinker is an experimental psychologist and one of the world's foremost writers on language, mind, and human nature. Currently Harvard College Professor and Johnstone Family Professor of Psychology at Harvard University, Pinker has also taught at Stanford and MIT. His research on visual cognition and the psychology of language has won prizes from the National Academy of Sciences, the Royal Institution of Great Britain, the Cognitive Neuroscience Society, and the American Psychological Association. He has also received six honorary doctorates, several teaching awards at MIT and Harvard, and numerous prizes for his books The Language Instinct, How the Mind Works, and The Blank Slate. He is Chair of the Usage Panel of the American Heritage Dictionary, and often writes for The New York Times, Time, and The New Republic. He has been named Humanist of the Year, Prospect magazine's "The World's Top 100 Public Intellectuals," Foreign Policy's "100 Global Thinkers," and Time magazine's "The 100 Most Influential People in the World Today."
Tickets $12 ($6 students, OLLI members, Hillside members) in advance at Brown Paper Tickets online or 800-838-3006, $15 at the door