Oliver Burkeman comes to Berkeley to talk about his new book, The Antidote: Happiness for People Who Can't Stand Positive Thinking.
Venue:

Mrs. Dalloway's Literary & Garden Arts

Date:

Thursday, January 24, 7:30pm


Oliver Burkeman writes about social psychology, self-help culture, productivity, and the science of happiness in This Column Will Change Your Life for The Guardian. He wrote "The Positive Power of Negative Thinking" for Greater Good.
His new book, The Antidote: Happiness for People Who Can't Stand Positive Thinking, explores the upsides of negativity, uncertainty, failure and imperfection.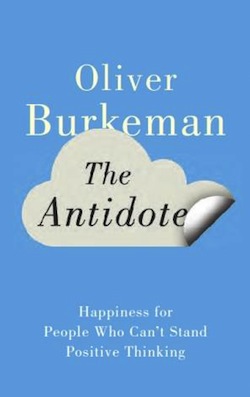 Self-help books don't seem to work. Few of the many advantages of modern life seem capable of lifting our collective mood. Wealth—even if you can get it—doesn't necessarily lead to happiness. Romance, family life, and work often bring as much stress as joy. We can't even agree on what "happiness" means. So are we engaged in a futile pursuit? Or are we just going about it the wrong way?
In The Antidote, Burkeman introduces us to an unusual group of people who share a single, surprising way of thinking about life. Whether experimental psychologists, terrorism experts, Buddhists, hardheaded business consultants, Greek philosophers, or modern-day gurus, they argue that in our personal lives, and in society at large, it's our constant effort to be happy that is making us miserable.
And that there is an alternative path to happiness and success that involves embracing failure, pessimism, insecurity, and uncertainty—the very things we spend our lives trying to avoid. Thought-provoking, counterintuitive, and ultimately uplifting, The Antidote is the intelligent person's guide to understanding the much-misunderstood idea of happiness.
The Greater Good Science Center is co-sponsoring a talk with Oliver Burkeman in Berkeley, California, at Mrs. Dalloway's on Thursday, January 24. GGSC Web Editor Jeremy Adam Smith will introduce the author.