Cultivating Emotional Balance (CEB) is an educational training committed to utilizing the experience of emotion as a path for developing the happiness of being for ourselves and in relationship to others. By integrating the wisdom traditions of modern psychology, current emotion research, and contemplative practices, CEB provides a secular platform for transformation.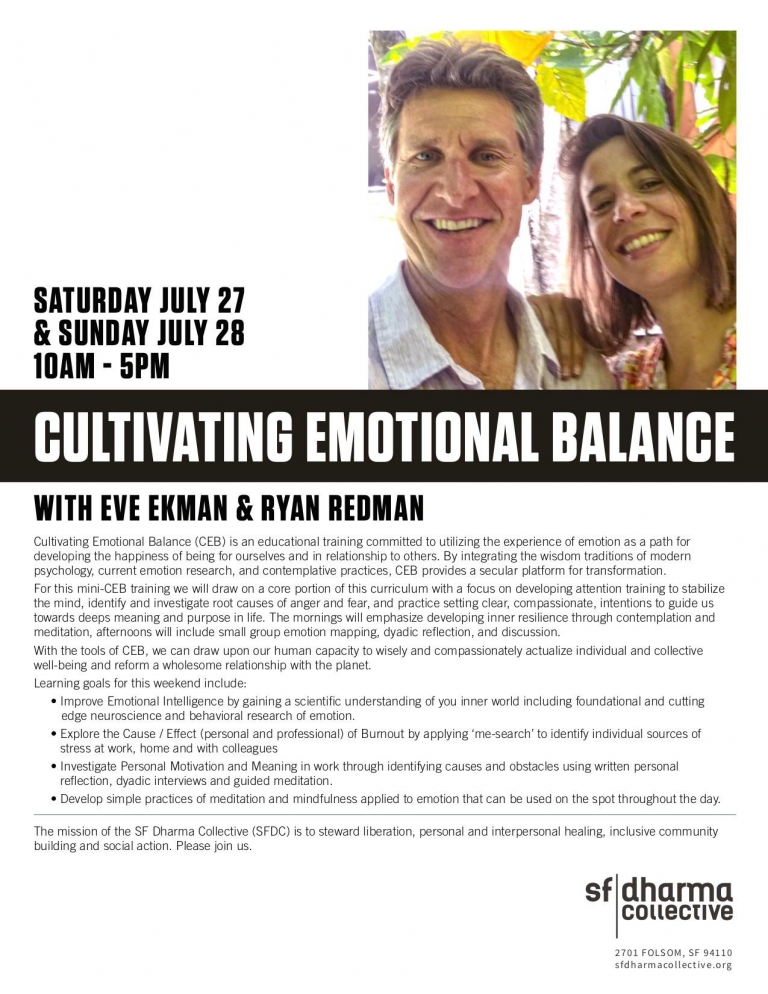 Venue:

SF Dharma Collective

Date:

July 26-28, 2019

Time:

2:00 PM - 5:00 PM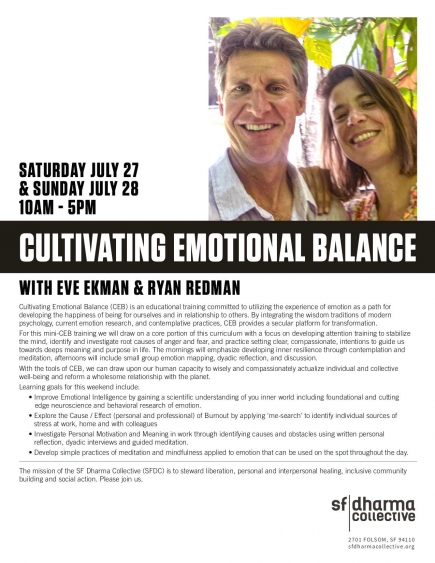 Saturday and Sunday : For this mini-CEB training, we will draw on a core portion of this curriculum with a focus on developing attention training to stabilize the mind, identify and investigate root causes of anger and fear, and practice setting clear, compassionate, intentions to guide us towards deeps meaning and purpose in life. The mornings will emphasize developing inner resilience through contemplation and meditation, afternoons will include small group emotion mapping, dyadic reflection, and discussion.

Friday Night: "Voices of the Universe": A Transformative Sound Meditation Ceremony. With renowned global sound musician Úyanga Bold.
Reach beyond the thinking mind, clear through blockages and come home to your heart, which beats in time with the heart of the Universe. Uyanga Bold will guide you on a deep meditative journey and sound attunement of the mind, heart, body and spirit.
What to expect:
Opening the ceremony, Uyanga calls in a voice often called otherworldly. Drawing vocal colors from a lifetime of studies into human vocalizations from around the world, she layers pure and polyphonic tones that form calming evolving soundscapes made in the moment. Carefully weaved in are ancient healing songs, calls and mantras, with rare instruments.
REGISTER HERE: https://docs.google.com/forms/d/e/1FAIpQLSes5Xx-VvOH9jnSMeASPkBbmSD6KCFiWgy9QKhkNM0qnlK3cA/viewform