The Results of Our "Human Happiness" Student Video Competition
May 17, 2012
What makes you happy?
That was the question more than 400 UC Berkeley students had to consider before they completed Psychology 162 this spring.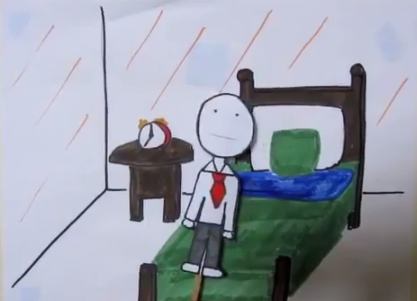 This was no ordinary assignment, and it was no ordinary class. The class, called "Human Happiness," was taught by Greater Good Science Center Faculty Director Dacher Keltner, a professor of psychology at Berkeley. Keltner offered his students an interdisciplinary tour of the new science of happiness, covering topics such as gratitude, awe, humor, and compassion.
Toward the end of the semester, Keltner presented his students with an unusual extra credit assignment: Produce a short video illustrating at least one of the key concepts covered in "Human Happiness." The videos had to be short (1-3 minutes), draw on the material they covered in class, and answer the question, "What makes you happy?"
Working alone or in groups, more than 100 students submitted a total of 60 videos. Keltner says he was blown away by the results.
"What you want as a teacher is for students to engage with the material really deeply and take it in their own directions," he says. "You can never quite see that on an exam. But this assignment really captured the students' vision—their personal voice, the depth of their reflection. It brought tears to my eyes, to be honest."
Greater Good staff narrowed the pool of 60 submissions to 10 finalists, which it then presented to an illustrious panel of judges, including:
Keltner, who was teaching "Human Happiness" for the fourth time;
Yoo-Mi Lee, the coordinator of KarmaTube, a website that features inspiring videos;
filmmaker Frederick Marx, a producer of the documentary Hoop Dreams and the founder of Warrior Films;
UC Berkeley psychology professor Iris Mauss, an emotion researcher and happiness expert;
and Randy Taran, the founder of Project Happiness, which teaches young people "social and emotional skills for a meaningful life," including through a documentary of the same name.
After careful deliberation, the judges scored the videos, and we are now pleased to present the winners of our first-ever "Human Happiness" Student Video Competition. Here they are:
First-Place Winner
Bill's Story, by Jessica Berrie, Stephanie Rotter, Kara Torbert, and Katey Watry. A charming and clever illustration of a deep scientific finding: that social connections, not wealth or status, are the key to happiness.
Runners Up
What Makes You Happy?, by Elizabeth Carey and Melody Tien
Greater Good: Gratitude, by Woo Ri (Joanne) Choi
What Makes Me Happy?, by Vivian Nguyen
What Makes You Happy?, by Kristy Kwak and Julia Park
Honorable Mention
Green with Happiness, Not Envy, by Chris Chin
Human Happiness, by Grace Choi
Relationship Happiness with Sharkee, by Nyx Robey
A One Minute Guide to Happiness, by Sheba Plamthottam
The finalists will receive copies of the documentary Happy—an engaging tour of the science and practice of happiness—or Taran's uplifting Project Happiness film.
We're grateful to all of the "Human Hapiness" students who submitted a video. The judges stressed that their decisions were not easy. "Each one had something special," says Taran.
As a whole, the pool of submissions is a testament to the creativity and intelligence of UC Berkeley students—plus it gives a nice introduction to the science of happiness.
"All of these made me happy!" says Marx. "They're wonderful, creative, fresh, inspirational. They are all winners!"