The GGSC is Hiring a Podcast Producer!
September 17, 2018
Overview
The Greater Good Science Center at UC Berkeley (GGSC) studies the psychology, sociology, and neuroscience of well-being and teaches skills that foster a thriving, resilient, and compassionate society. Since 2001, it has provided a bridge between researchers and the public, producing a host of multimedia resources—including an award-winning online magazine, videos, and hugely popular online course—that combine science and storytelling.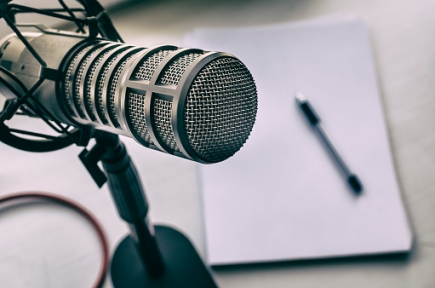 This position will serve as producer of the GGSC's popular and acclaimed new podcast, The Science of Happiness, which is co-produced and distributed by Public Radio International (PRI), in partnership with Ben Manilla Productions.
Hosted by GGSC founding director Dacher Keltner, a professor of psychology at UC Berkeley, The Science of Happiness offers research-tested strategies for a happier, more meaningful life. In its first season, it earned more than 3 million downloads and hit #2 on iTunes' list of Top Podcasts, with guests including best-selling authors Michael Pollan and Kelly Corrigan, On Being host Krista Tippett, children's book author Yuyi Morales, and Dan Harris of ABC News.
This is a six-month, full-time contract position—starting in November of 2018—that could develop into a permanent position.
Responsibilities
As producer, you'll be responsible for creating engaging audio content through a mix of science reporting and storytelling. Shepherding each episode through its development, production, and distribution, your duties will include:
Researching episode ideas and Identifying and pre-interviewing guests
Writing and editing scripts
Maintaining comprehensive production schedule
Production coordination—booking studio time, lining up interviews and coordinating with the host's schedule
Overseeing the in-studio recording, and the post-production, of each episode, working with a sound designer
Working with freelancers on tape syncs and other content collection from the field
Occasionally interviewing guests yourself for the show's science segment
Identifying and securing additional creative partners when appropriate (e.g., collaborations with other podcasts, working with an artist on an illustration for each episode)
Posting the final audio and show descriptions to the podcast hosting platform and the GGSC website
Working with PRI and the GGSC's marketing director to support marketing and promotion
Qualifications
2+ years experience in writing for and producing long-form audio or video, preferably podcasts
Strong reporting skills: experience researching subjects, prepping for and conducting interviews
Audio production skills: experience recording and editing audio
Expert storytelling skills: ability to craft a narrative from a longer interview and identify its most compelling moments
Strong project management and problem solving skills: ability to juggle various tasks, coordinate schedules, and meet deadlines
Reel or portfolio, with a description of your role in each piece
Knowledge of best practices and innovations in podcast production preferred
Affinity for the Greater Good Science Center's mission strongly preferred
Must be based in the San Francisco Bay Area
Salary & Benefits
This is a contract position that will pay $1,500-$1,700 per week (commensurate with experience) and does not provide benefits.
How to Apply
To apply, please send us your resume, cover letter, and links to three samples of your work. Please email them to Greater@Berkeley.edu by October 19, with "Podcast Producer Application" as the subject line.