Save the Date: Gratitude & Well-Being at Work Nov. 17
June 9, 2017
When was the last time you felt truly appreciated at work? How often do you say "thank you" to a colleague, supervisor, or employee?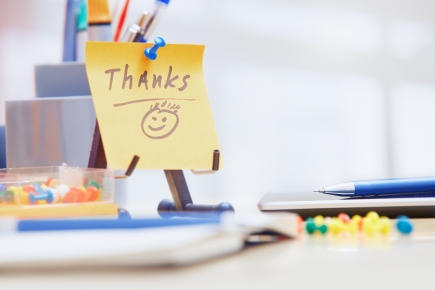 Research suggests that expressing and receiving gratitude at work makes people feel happier and more fulfilled, cooperative, motivated, and effective. Yet they report being less likely to experience or express gratitude at work than anyplace else: Only 10 percent of Americans say they express gratitude to their colleagues every day, and 60 percent say they never or very rarely express gratitude at work.

That's why Gratitude & Well-Being at Work—a GGSC event scheduled in San Francisco for November 17—is so timely.
Featuring a keynote by Dr. Robert Emmons, the world's leading scientific expert on gratitude, as well as other researchers and workplace leaders who have been developing and testing innovative ways to foster cultures of appreciation, the day will help you lead your workplace out of the lack-of-gratitude rut.
The event will both raise awareness about the scientific benefits of gratitude and spread research-based ideas for how to promote gratitude within workplaces. Attending will be invaluable to managers, HR or employee wellness staff, and other workplace innovators or mental health professionals—indeed, to anyone looking for research-based strategies to improve the well-being of individuals and the culture of organizations.
Don't miss the chance to get on the early-bird list for a special 20% off code to be sent to you when the event opens for registration later this summer. Full-price tickets for the full-day event, including networking reception, will be $279. Email your digital contact information to gratitude@berkeley.edu today!