Roots of Empathy Needs Bay Area Volunteers and Babies!
July 23, 2013
Are you a proud parent with a new baby who will be 2-4 months old in September? Would you like to volunteer to help children develop compassion and empathy?
The GGSC is helping the internationally renowned Roots of Empathy program expand its program in the San Francisco Bay Area this fall—and there's a way you can help it bring compassion to more classrooms.
The program is looking for local volunteers to serve as Roots of Empathy Instructors in Oakland and San Francisco. ROE instructors typically have experience working with children, often as teachers, social workers, counselors, early childhood educators, or in other fields involving youth. The position requires a two-year commitment, and Spanish bilingual volunteers are especially needed.
Roots of Empathy is also seeking Bay Area parents with infants who will be 2-4 months old in September. As a Roots of Empathy family, you and your infant would team with a trained Roots of Empathy Instructor for nine 30-minute visits to an elementary school classroom over the course of the school year—the backbone of the ROE curriculum..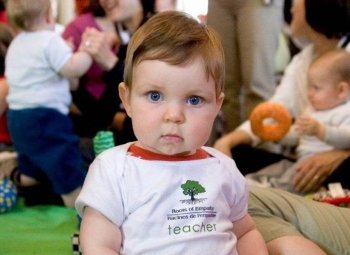 Roots of Empathy is a program for children in kindergarten to grade 8. The program's aim is to increase empathy—the ability to understand another person's feelings—and it does so by having children observe an infant's emotional and physical development over the course of nine months. Research suggests that the program helps children learn to care and respect each other, and it decreases bullying and aggression.
To learn more please contact Ilene Fortune, Bay Area Program Manager, at ifortune@rootsofempathy.org.