Request for Proposals: Online Course Producer/Instructional Designer
October 9, 2020
Overview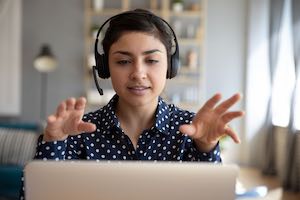 The Greater Good Science Center (GGSC) at UC Berkeley studies the psychology, sociology, and neuroscience of well-being—"the science of a meaningful life"—and teaches skills that foster a thriving, resilient, and compassionate society. The GGSC's Education Program translates that science into practical resources that support the social, emotional, and ethical development of educators and the students they serve, drawing on disciplines such as social-emotional learning (SEL), mindfulness, and character education.
We are currently accepting proposals for an online course producer/instructional designer to work on an intensive eight-month project, beginning in November 2020. This contract position will work closely with the GGSC Education Program team to produce a new asynchronous online training that will support the professional development and social-emotional well-being of educators across the state of California, releasing new training content each month from November 2020 through June 2021. The online course producer will oversee and coordinate all aspects of the training's development and production. This will include supporting the design of the training, producing videos and other multimedia content, and building the training on our learning management system, Canvas.
Responsibilities
Course Design
Works closely with the GGSC Education Team, the Sacramento County Office of Education, the Orange County Office of Education, and other educational experts to devise the format, structure, and learning objectives of the asynchronous online training, applying best practices of instructional design and multimedia learning.
Includes designing the overall structure and flow of the training across eight months, determining the elements within each module of the training, and identifying opportunities for the instructors' engagement and interaction with learners, including through live events.

Media Development and Production
Identifies the best tools for recording and producing the training's videos and other multimedia content, particularly given restrictions on in-studio recording due to the pandemic.
Determines the best format and visual style for the training's videos, including those led by the two lead instructors and those from guest instructors.
Writes and/or edits scripts for videos and other multimedia assets.
Records and edits all videos for the training, incorporating other elements into the finished videos, such as graphics or slides. The team may enlist an additional video editor if necessary.
Works with the Education Program team and course assistants to identify and secure readings and other supplementary training materials, including obtaining rights and permissions when necessary.
Produces occasional (~monthly) live webinars and other live, synchronous events that supplement the asynchronous training.

Course Build and Maintenance
Tracks production, post production, and release of all assets for the training, to make sure the project meets its deadlines and remains on schedule.
Oversees posting of all content to the learning management system, Canvas, working with a small team of course assistants.
Oversees moderation of training discussion boards, working with course assistants.
Responds to learner feedback with adjustments and fixes as necessary.

Project Management
Sets the project goals and timeline, working closely with the GGSC Education Program team.
Ensures that the project remains on track and on time.
Coordinates video recording with lead instructors and guest presenters.
Oversees remediation of all course assets to meet ADA accessibility requirements, including transcription and captioning of video.
Oversees quality assurance testing before training modules go live.
Maintains ongoing communication with project partners, including representatives from all 58 California counties.
Qualifications
At least three years of professional experience designing and producing engaging online courses or trainings.
Understanding of instructional design strategies and ability to apply them to specific course design needs.
Proficiency in recording and editing video and audio content using professional technologies and software (e.g., Adobe Premiere, Camtasia Studio, Adobe After Effects), including tools for remote video recording.
Proficiency with a leading learning management system required; experience with the Canvas learning management system strongly preferred.
Strong graphic design and motion graphics skills, and proficiency in graphic design software (e.g., Photoshop, Illustrator).
Strong interpersonal skills, including strong written and oral communication skills.
Strong project management and problem-solving skills.
Strong attention to detail and quality control.
Strong media management skills.
Strong ability to work quickly and efficiently, and meet strict deadlines.
Proficiency in basic software tools (e.g., Microsoft Office, Google Suite, Zoom).
Comfort alternating between independent and collaborative work.
Knowledge and experience creating and modifying multimedia content for Accessibility compliance strongly preferred.
Knowledge of HTML preferred.
Experience working with higher education faculty or other subject matter experts to design and develop interactive multimedia learning content preferred.
Proficiency in authoring interactive multimedia content using professional tools (e.g., Captivate, Articulate Storyline) preferred.
Knowledge about the field of K–12 education, particularly the field of social-emotional learning, strongly preferred.
Commitment to advancing the goals of diversity, equity, and inclusion through online learning strongly preferred.
Commitment to the GGSC's mission strongly preferred.
Submitting Your Proposal

Please submit your proposal—or direct any questions about this project—to the attention of Mariah Flynn, GGSC Education Program Coordinator, at ggsceducation@berkeley.edu. Please put "Online Course Producer" in the subject line, and please include a summary of your qualifications and relevant experience, either through a resume, cover letter, and/or a portfolio of prior work (with links, when possible).

Our budget for this position is $95,000—that is for the contract for this position itself, not including additional course production costs (e.g., LMS license, additional video editing). With your proposal, please include a cost estimate for your work, indicating your rate. The deadline for submitting a proposal is October 31, 2020.

Please note that the producer will be hired as a contractor—this position does not provide benefits.

The Greater Good Science Center is committed to the goals of diversity, equity, and inclusion in hiring its vendors and contractors.