Request for Proposals: Digital Gratitude Journal
August 16, 2012
The Greater Good Science Center at the University of California, Berkeley, is seeking a design and development team to help us create a web-based effort to track and promote the practice of gratitude worldwide—while also serving as an invaluable source of scientific data on gratitude.
Background
The Greater Good Science Center studies the psychology, sociology, and neuroscience of well-being, and teaches skills that foster a thriving, resilient, and compassionate society.
Based at the University of California, Berkeley, the GGSC is unique in its commitment to both science and practice: not only do we sponsor groundbreaking scientific research into social and emotional well-being, we help people apply this research to their personal and professional lives. Since 2001, we have been at the fore of a new scientific movement to explore the roots of happy and compassionate individuals, strong social bonds, and altruistic behavior—the science of a meaningful life.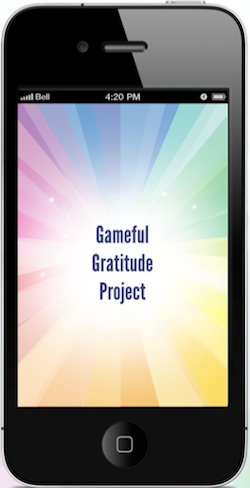 As part of our recently launched Expanding the Science and Practice of Gratitude project, we are creating Digital Gratitude Journal, which will enable and encourage users to regularly record the things for which they are grateful. These entries can be visible to the public and the scientific community, which will be able to search and sort entries by keyword, geographic location, age, gender, and other categories. In effect, the Digital Gratitude Journal will allow the public and researchers to track trends in the practice of gratitude, analyze entries by area, and ultimately provide a truly global snapshot of our planet's current state of gratefulness. It builds on years of research suggesting that keeping a gratitude journal carries physical, psychological, and social benefits.
While there are already some online gratitude journals, they are relatively simple—the user can enter the things for which he or she is grateful, and perhaps read a list of previous entries from others. By contrast, we would develop a gameful, searchable, and interactive digital journal—accessible via a mobile-optimized website—that truly advances the study and practice of gratitude, created in consultation with researchers in order to make it a valid tool for data collection.
The Digital Gratitude Journal would raise awareness of the importance of gratitude and provide a simple but effective tool for increasing people's practice of gratitude and understanding of its benefits. In addition to serving as a rich trove of data for gratitude researchers, it would provide outstanding content for those who are teaching the practice of gratitude (e.g., therapists, teachers).
We plan to launch a beta of the Digital Gratitude Journal by November 2012 and apply it to the "Cal Gratitude Challenge"—a coordinated effort to enlist members of the UC Berkeley community to express gratitude for the two-week period leading up to Thanksgiving.
In the next level of the project, we plan to roll out the Gratitude Challenge to other campuses, and to conduct market research into how to best promote the use of such an online gratitude tool in other areas of the world, particularly China and India—nations that have not only enormous populations but a growing interest in Western approaches to mental health. The studio we hire to create the Digital Gratitude Journal will likely be enlisted to work on the next, global stage of the project as well, under separate contract.
Project Objectives
Create a mobile-optimized site that encourages users to register and make daily expressions of gratitude
Gather demographic data of registered users and create a platform for researchers to examine the data.
Enable users to log in and review past entries in their own private journal, and opt to make their entries public.
Create a public, real-time representation of users and participation, such as a gratitude feed, digital map, and bar graphs.
Functionality
We developed a basic wireframe for a mobile app that can be viewed here, which we provide to give bidders a sense of where we're going. We expect that the provider will work with us in developing and refining iterations of this mobile-optimized site.
The purpose of the site is to register users and gather their data in a way that is pleasant and gameful—and then encourage daily expressions of gratitude through reminders (emails or text messages) and incentives.
The Digital Gratitude Journal must also have, on the backend, a well-organized database and the ability for researchers to access the data (which could be as simple as downloading a spreadsheet, though we will entertain other options).
Finally, we would like to gradually build a public-facing, real-time representation of the data, that will enable users to filter responses to people in a given community (e.g., UC Berkeley) or demographic.
Plug in to social media sites such as Facebook (this functionality may need to be held until phase two of the project).
Financial Constraints
We have budgeted a maximum $30,000 for building the Digital Gratitude Journal beta.
Travel and per diem expenses incurred by the provider are not part of this budget, but are not required by the project.
Timeframe
Please submit electronic proposals by September 7, 2012 to howe.chelsea@gmail.com with a cc to jeremysmith@berkeley.edu. We will choose the provider within one week of the deadline, and expect that they will start work immediately. Early submissions are appreciated.
We aim to launch a test version of the Digital Gratitude Journal by October 19 and have a functional beta of the mobile-optimized site by the week of November 1.
Provider Qualifications
Our ideal provider is a small, nimble, responsive shop (or network of collaborators) with design and developer capabilities across multiple platforms. We will require three references and successful experience with at least three similar projects. Preference will be given to shops with previous experience in scientific data collection. We will be impressed by bidders who are able to push back against this RFP and suggest alternative and creative pathways to meet our objectives within our limited budget.
Greater Good Science Center Resources
What to know more about the science and practice of gratitude? Please see these Greater Good resources: