Prestigious Award for GGSC Blog!
March 19, 2010
We're thrilled to announce that Christine Carter's Greater Good Science Center parenting blog, Raising Happiness (formerly called Half Full), has won the Council on Contemporary Families' 2010 award for Online Coverage of Family Issues.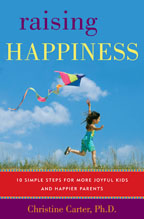 The award comes at a time when Christine has been receiving tons of (much deserved) recognition for her amazing new book, Raising Happiness.
The press release from the CCF is below. Congratulations Christine!
Council on Contemporary Families honors three journalists for outstanding coverage of family issues
CHICAGO, March 19, 2010. The Council on Contemporary Families (CCF) is pleased to present its Eighth Annual Media Awards on Friday, April 16, at its at the CCF Annual Conference at Augustana College in Rock Island, Illinois. Winners will speak for five minutes on emerging issues affecting American families. The awards ceremony is followed by a party to launch the publication by W. W. Norton of our anthology of cutting-edge thinking and research, Families As They Really Are, edited by CCF Executive Officer Barbara Risman (University of Illinois at Chicago).
A 2010 Award for Print Coverage of Family Issues goes to Paul Raeburn for his article "The Father Factor," which appeared in Scientific American Mind. The article describes the increased risk for children born to older fathers of conditions that include schizophrenia, autism, and dwarfism. Jurors praised Raeburn's writing and documentation, and the article's relevance to the national discussion around autism spectrum disorders. All agreed that the topic had been badly overlooked, and that Raeburn's work could make an important contribution to more informed choices by older parents.
A 2010 Award for Online Coverage of Family Issues will be presented to Christine Carter for "Half Full: Science for Raising Happy Kids," a blog for The Greater Good Magazine. Blending personal stories with reputable, published research, each entry addresses a specific parenting topic. Jurors were impressed by the range of issues, the quality of the writing, and the way the blog resonates with contemporary families, as evidenced by the number and breadth of comments. Above all, the "Half Full" blog is a terrific exemplar of the CCF mission: to disseminate engaging, well-grounded, responsible information about families today.
The 2010 Award for Outstanding Broadcast Coverage of Family Issues will be awarded to Christina Delfico, VP Producer at Sesame Workshop, for "Families Stand Together: Feeling Secure in Tough Economic Times." The program combines a Sesame Street episode with footage of parents and kids working together to cope with layoffs and financial insecurities. The jury unanimously described "Families Stand Together," as extremely timely, well researched, and well cast. One pointed out that focusing on mainstream married couples with kids "shines a light on the broad impact of the recession." Another praised the program's realism, the diverse group of families, and the good examples they modeled. All felt it would be a useful tool to promote discussion of problems that are very much on the minds of parents and kids today.
About the CCF Media Awards: The CCF media awards were established in 2002 as part of the Council's commitment to enhancing the public understanding of trends in American family life. "All too often, changes in U.S. family patterns are painted in stark, better-or-worse terms that ignore the nuanced and complex realities of family life today. The Awards Committee looked for articles that put individual family issues in larger social context. This kind of coverage offers the public a balanced picture of the trade-offs, strengths and weaknesses in many different family arrangements and structures," explained Stephanie Coontz, CCF's Director of Research and Public Education. The CCF media awards committee will call for nominations for the 2010 awards in the fall. Please visit www.contemporaryfamilies.org for information.
CONTACT: Ashton Applewhite, applewhite@earthlink.net, 646-644-4040
About the CCF Conference: Featuring leading researchers and practitioners from around the nation, the 13th annual CCF conference will address the theme "Families as They Really Are: How Do We Use What We Know?" Speakers will address new research on close relationships, including new findings in the fields of couples therapy, divorce mediation, parenting, sexuality, aging, and family health.
The program and registration form can be downloaded from http://www.contemporaryfamilies.org/. Registration is required for a press pass. Journalists wishing to attend the conference should contact Stephanie Coontz at coontzs@msn.com. All other registrations and checks should be sent by snail mail to the address on the registration form.
About CCF: Founded in 1996, with a membership consisting of nationally noted family researchers, mental health and social work practitioners, and clinicians, the Council on Contemporary Families is a nonprofit, non-partisan organization dedicated to enhancing the national conversation about how and why contemporary families are changing, what needs and challenges they face, and how these needs can best be met.