Join Character Day on September 22, 2016
June 23, 2016
Character Day is a free annual day where people from around the world screen films on the science of character development from different perspectives; the third annual celebration of character development will be September 22, 2016.. People will dive into free printed discussion materials and join an online global conversation around character and the importance of developing character strengths (resilience, grit, empathy, courage, kindness)—all rooted in evidence-based research. Over 13,000 organizations around the world have signed up thus far—and there's room for more. You can sign up now (takes 2 mins) to make the most of this free day for the fall.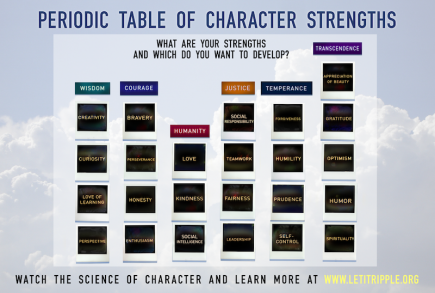 Your Character Day event(s) can look and feel any way you would like it…any time of the day, anywhere, and any size. Last year there were over 6,784 events at organizations across the world. The Character Day team provides all the materials (Films, Periodic Table of Character Strengths Poster, printed discussion materials, a robust online hub of resources and an online conversation with leading experts on social and emotional learning from multiple perspectives), and leaves the creativity of what the day looks like to participating organizations. There is no cost to participate!
You can watch the acclaimed films "The Science of Character" (8mins) and "The Adaptable Mind"(11 min) to get a better sense of what types of films will be shown on Character Day.
Once you sign up, you will be invited to a series of webinars to learn more about best practices for hosting your own Character Day. All you need to do is register and all of these materials will be provided for you. Watch a one-minute trailer and sign up at CharacterDay.org.