Announcing the New Greater Good Podcast
March 30, 2017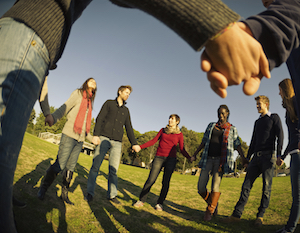 The GGSC is proud to announce that we're producing a new podcast, The Science of Happiness, set to launch this fall. You can watch a short video about it now, and we're asking our readers and members to make the podcast possible by "crowdfunding" a series of episodes.
Hosted by GGSC director Dacher Keltner, Ph.D., The Science of Happiness will explore how to live a more joyful, connected, and meaningful life, through practical skills and personal stories. Episodes will be entirely free and will be distributed through Public Radio International and your favorite podcast store.
We think podcasts are an exciting way to learn about Greater Good science wherever you are, through a device that's probably already right at hand. But to keep the series free for everyone, we're asking for your generosity so we can research, write, record, edit, and deliver this valuable new resource.
Please visit the podcast crowdfunding website now to watch the two-minute series promo, to see the list of donor perks, and to join with fellow Greater Good fans in making our new podcast a reality!